The Bullpen Gospels by Dirk Hayhurst (Citadel Press, 2010)Â 340 pages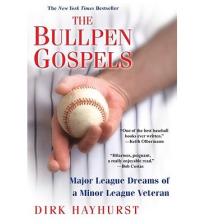 It is often said the greatest comedy comes from situations where the characters are trapped together. After reading Dirk Hayhurst's descriptions of players suffering long bus rides between minor league stadiums, it should come as no surprise this book has plenty of funny moments.
Â
Unless you are a baseball anorak, you have probably never heard much about Dirk Hayhurst, a right-handed long reliever and spot starter who made it to the Majors with the Padres and Blue Jays.
Â
His career MLB numbers are certainly nothing special, as he has a record of 0-2 with an ERA of 5.72 in 39 1/3 innings.
Â
But in The Bullpen Gospels, which covers one of his seasons in the minor leagues, we get a valuable insight into what life is really like for players hoping to play their way to the big leagues.
Â
The book begins with Hayhurst contemplating quitting baseball. He is a late-round draft pick of whom little is expected and is struggling with his condfidence on the mound. He is living in his grandmother's basement, much to her disgust, as he cannot stand life with his parents and his alcoholic brother.Â
Â
Deciding to get away from a pretty lousy sounding home life, he decides to give baseball another chance and records the events throughout the season.
Â
The book gives an interesting insight into spring training, including the battle to survive being released and the players' paranoia grows as decision day looms. And it also shows Hayhurst is not your average jock, as he tells his story with plenty of self-deprecating humour.
Â
There are a string of hilarious stories throughout the book, from Hayhurst making a fool of himself during a players' meeting with his hero, Trevor Hoffman, to some pranks played by coaches during training drills and players as a way of passing time on the next long all-night bus trip to the next minor league stadium, which I won't spoil for you here.
Â
There are also reports of the team's kangaroo court sessions, where players are fined for offences such as non-productive at-bats, but some of the less intelligent players end up making bigger fools of themselves.
Â
Some of the funniest moments are when Hayhurst reports what pitchers in the bullpen really get up to. Baseball fans may think they spend their time in the pen glued to the game and talking about pitching styles and tactics.
Â
But there also some very funny recollections of some of the surreal and X-rated conversations which went on and attempts to pick up women fans as well as a number of money-making schemes designed to make young fans part with some of their pocket money.
Â
The book does have a few sentimental moments which feel a bit schmaltzy, but even when Hayhurst's ego starts to get the better of him, he manages to redeem himself with some self-deprecating remarks.
Â
Overall, the book is a great insight into life in the minors, where multi-million dollar draftees play alongside late-round draft picks, veterans and players trying to get their careers back on track after recovering from injury. The mix of different characters certainly makes for an entertaining read.
Have you read "The Bullpen Gospels"? Feel free to share your thoughts in the comments section below. Can you recommend any other similar books? If so, let us know.