The CEB (Confederation of European Baseball) tournament website is a little dated, but it doesn't matter what the graphics look like when they're showing a victory for a British baseball team.
Just a few minutes ago, this was the site on the live feed from Stockholm: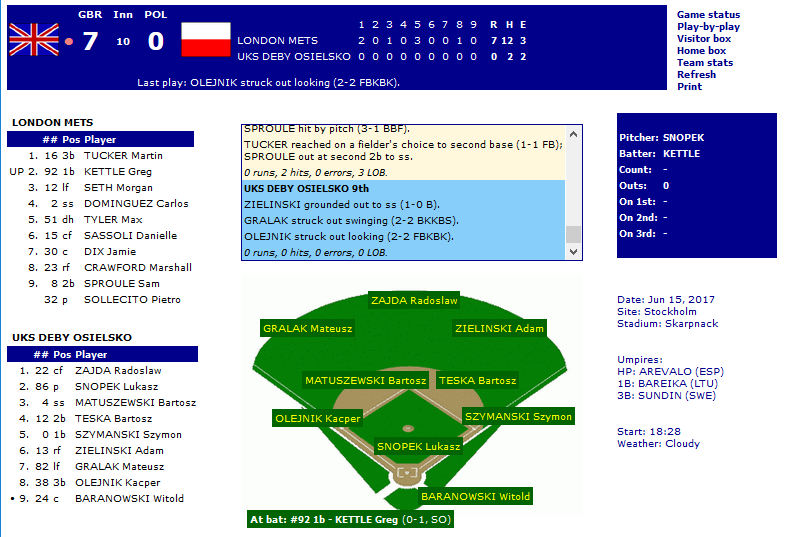 (N.B. ignore the 10 inning reference, it automatically goes to the next inning after the previous one – such as the ninth – ends).
The London Mets secured a 7-0 victory over UKS Deby Osielsko to give themselves a chance to make it through to the Federations Cup Qualifier Pool 3 final.
Their final group game takes place at 11.00 GMT tomorrow (Friday) and it's going to be a tough one against the Pool favourites, Sant Boi. The Spanish team are 3-0 and already guaranteed a place in the final, which might mean they take their eye off the ball. If they do, the Mets are sure to be ready to take advantage. London's victory tonight means they are 2-1 in the Pool knowing a win on Friday will be enough to get a final berth.
If Sant Boi come out on top, that would probably result in a three-way tie for second place with Kaunas County B.C. (who are 2-2) and the hosts Stockholm who are 1-2 and strong favourites to beat UKS Deby tomorrow to even up their record. CEB tournament rules mean that the first tie-breaker (result against the other tied team) won't separate the teams (they are all 1-1 in games against each other) so it moves on to the second tie-breaker: Teams Quality Balance (TQB). As explained in the rules:
"*Teams Quality Balance (TQB) is the sum of runs scored divided by the number of innings played on offense minus the number of runs allowed divided by the number of innings played on defense. (RS/IPO) – (RA/IPD)=TQB.

The TQB is calculated with four decimal places. The fifth decimal place is used to round up or down".
Here is how things stand with Kaunas having played their four games, and London and Stockholm still to play their final games tomorrow.
| | | | | | | | | |
| --- | --- | --- | --- | --- | --- | --- | --- | --- |
| | GP | RS | OIP | RS/OIP | RA | DIP | RA/DIP | TQB |
| London | 3 | 20 | 26 | 0.769230769 | 6 | 26 | 0.230769231 | 0.5385 |
| Kaunas | 4 | 25 | 33 | 0.757575758 | 13 | 32 | 0.40625 | 0.3513 |
| Stockholm | 3 | 5 | 23 | 0.217391304 | 27 | 23 | 1.173913043 | -0.9565 |
* This is my quick calculation, not an official tally (i.e. subject to error!).
If I've calculated that all correctly, at this stage the Mets are in the cat-bird seat; however the key difference is that the other two teams have already played the strongest team in the Pool.  Kaunas lost 8-0 to Sant Boi earlier today, whilst Stockholm lost 11-3 to them in their pool opener. So, if the Mets can't quite get the better of Sant Boi tomorrow, they'll need to work hard to keep the score close to stay ahead of Kanuas.
Southampton's semi-final
It was a good day for the Southampton Mustangs too, competing in Pool B in Serbia. They defeated Atletico Alexandria 13-7 to make it two wins on the spin after losing their opener against pool favourites Diving Ducks W.Neustadt from Austria.
That victory sets up what is effectively a semi-final on Friday (15.00 GMT) against the home team Beograd '96. Both teams have a 2-1 record and whoever wins the game will go on to face the Diving Ducks on Saturday. The Ducks are 3-0 and guaranteed a place in the final even if they lose against Athletic Sofia tomorrow lunchtime.
The Mustangs, reigning NBL champions, made it to their pool final last year where they were beaten by Sant Boi.
British baseball fans would really get that 'Friday feeling' if we end up with two teams in the final, with the Mets getting some British revenge on the Spanish team in the process.
You can follow the action live on the CEB website, with updates on their Twitter accounts (@LondonMets and @SotonMustangs) as well.