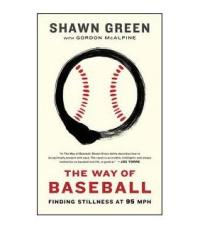 The Way of Baseball: Finding Stillness at 95mph by Shawn Green and Gordon McAlpine
Â
Shawn Green will always be remembered for one magical day in Milwaukee – May 23, 2002.
Playing for the visiting Dodgers, the left-handed outfielder went 6-for-6, belting four home runs (equalling an MLB record), a double and a single, setting an MLB record of 19 total bases in one game.
Green retired after the 2007 season, finishing his 15-year MLB career with a .283 average, 328 HR and 1,070 RBIs, winning Silver Slugger awards, Gold Gloves, MVP votes and being selected to All-Star teams.
So is this book the rather standard post-career cash in? Far from it.
During his early years in Toronto, Green became frustrated by manager Cito Gaston not giving him playing time, opting for veteran players instead, especially against left-handed pitching.
Green details how he asked to take more batting practice, but was told not to.
The outfielder's decision to ignore this saw him secretly taking extra swings off a batting tee and transforming his career in the process.
Green goes on to explain how he managed to find a calmness during these 15 to 20-minute sessions, where rather than thinking about hitting, he switched his brain off to the point where he was allowing himself to hit.
This process helped Green relax at the plate, hence the book's title, allowing him to focus on his opponent's delivery, see if he was tipping his pitches and make powerful swings.
All of a sudden, this approach saw Green go from a 16 HR part-time player to a star slugger capable of hitting 40+ HR a season.
Green's honesty is to be applauded in the book, as he notes how his ego got the better of him following the trade which sent him to Los Angeles, as his power numbers dipped as he tried to live up to the expectations of a big contract extension before he found his groove and belted 49 HR in 2001 – a Dodger franchise record.
Shoulder trouble (and the lack of a bat to protect him in the line-up after Gary Sheffield's departure, which to his credit Green does not mention as an excuse) saw him struggle in 2003 but to his credit he rebounded to hit 28 HR while playing 1st base, a new position for him, in 2004 before finishing up his career with Arizona and the Mets.
The book is a really interesting insight into what goes through a player's mind when at the plate, and what can happen when you overthink and fall victim to your ego.
It also offers some great advice for young hitters about how to identify if a pitcher is tipping his pitches, as well as providing fans with words of wisdom from hitters such as Carlos Delgado and Tony Fernandez.
The book is not particularly long – it will probably take no more than three hours to read it cover to cover – but it does offer something different to the many other books by former players, and is well worth investigating.
Then you will see what Yogi Berra meant when he said "90 per cent of the game is half mental".
Have you read "The Way of Baseball: Finding Stillness at 95mph"? Feel free to share your thoughts in the comments section below. Can you recommend any other similar books? If so, let us know.