… but a search for a left-handed reliever can do
As we get closer to players reporting to Spring Training in Mesa, Arizona, at the top of the Oakland A's 'To Do' List was adding another left-handed reliever.
FanFest discussions revealed that free agent offers and trade proposals had so far fallen short – even in Brian Duensing's case where he turned down more money from the A's to go back to the Cubs – yet it was clear that something was going to happen soon.
And so it did.
I take a certain amount of responsiblity for this as on the previous Sunday evening I updated my whiteboard to look at the A's roster options (apologies for the blurry pic).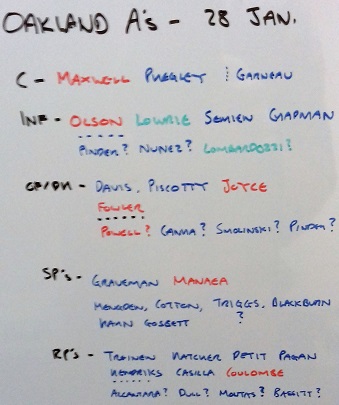 On the pitching side, the solitary red-coloured lefty Daniel Coulombe stood out, as did the raft of potential starting pitcher options. I almost put Jesse Hahn down as a potential relief pitcher option too as that was being mentioned in some quarters due to his injury struggles and inconsistency.
Well, Hahn now is off the roster having been traded to the Kansas City Royals to acquire lefty Ryan Buchter and to bring back Brandon Moss.
As mentioned elsewhere, currently there isn't an obvious spot on the roster for Moss unless Matt Olson gets injured (please, no) or Khris Davis returns to left field rather than the original plan of stationing him as the regular DH (wouldn't quite go so far as 'please, no' on that, but he's no great shakes in the outfield).
Moss will always be a fan favourite from his role on the 2012-2014 teams and his 22 home runs in 362 at-bats with the Royals in 2017 shows that there is still power in his bat.  He could be of use to someone, but at the moment it's probably wise to see this as a short-term reunion and expect he'll not be on the A's roster when they finish Spring Training.
The addition of Buchter is interesting because it plays into a recent trend of the A's going after pitchers with higher-than-average flyball rates. Looking at his entry in the Ron Shandler 2018 Baseball Forecaster, they reference his "sky high FB%", 54% of balls hit off him fall into that category, and his tendency to give up free passes. Still, they also note he continued his tendency to get a lot of infield flyballs and there's definitely something there to work with.
Coulombe was called on more than any other pitcher out of the A's bullpen in 2017 as he was the only southpaw to call on once Sean Doolittle was traded to Washington. The A's will be able to option Coulombe to the Minors in 2018 so, injuries dependent, I'd guess Buchter will be the primary lefty and Coulombe will shuttle between Oakland and Nashville,
Buchter joins Yusmeiro Petit and Emilio Pagan as new faces in the reliever ranks and when you include 2017 mid-season recruits Blake Treinen and Chris Hatcher to the list it will be a largely revamped group for 2018.
It's a group I'm quite optimistic about too.  We all know that a lot will depend on how the gaggle of starting pitchers come together – or not – yet we've at least got the potential that if the starters can keep us in more games than not through five or six innings, the bullpen has a decent chance to take care of the rest on most nights.