Practice Perfect Baseball edited by Bob Bennett (Human Kinetics, 2010), 246 pages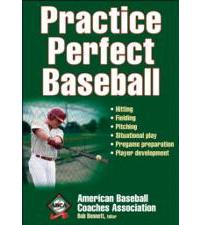 Practice Perfect Baseball, the latest baseball coaching manual from Human Kinetics, taps into the experience and expertise of a distinguished group of college coaches, providing a collection of essays that should give every coach some new ideas on how to improve their practice sessions. 
The book is split into 14 chapters, each written by a different coach and each taking a look at a distinct area that a baseball coach may wish to focus on. 
They range from the technical side of the game, such as a chapter full of drills and advice on how to fine-tune team fielding, to offering key pointers on how to establish a 'practice work ethic' among your players.  Every chapter is clearly written, often breaking up each element covered into a user-friendly section, and diagrams and photos are used to complement the text where necessary. 
The use of the word 'perfect' in the title may make you flinch, but it is used in the sense of being what you should aspire to rather than setting perfection as the standard benchmark for all your endeavours.  The search for perfection is there to make you question 'how can we get the most out of each drill' and 'how can we get the most out of each training session'?  In both cases, the basic answer from all of the coaches showcased in this book can be summed up in one word: 'organization'. As explained in the Preface:
"Because baseball has so many facets, both offensively and defensively, practice organization is sometimes difficult.  Practice Perfect Baseball teaches coaches how to organize practice, get the most out of players, best use the allotted time, and assess talent and evaluate practices and games".
As the book is looking at coaching through the eyes of top college coaches, there are passages and sections which might not be directly applicable to many coaches in Britain.  When Keith Madison encourages you to "post the practice schedule every day before 10.00 a.m. at the same specific spot on campus", it's not simply the lack of a campus that might hinder your ability to follow through exactly on his advice.  Coming up with ideas on how to make training interesting every day is not such a concern because outside of the Stateside colleague programmes, it takes a lot of commitment to fit in even a couple of sessions per week.  Similarly scouting your opponents might be a key part of life in Division I college ball, as noted in the 'Focusing on the Forthcoming Opponent' chapter, but it's unlikely to figure highly in the list of priorities for a coach of a Single-A British team.
However, even in these sections, the fundamental themes they are writing about apply to any level of baseball and it's easy enough to tailor the advice to fit your particular circumstances.  For instance, the points raised by Dan Hartleb on scouting pre-game infield and outfield practice could come in very handy for teams looking to quickly assess their opponents prior to a game.
The ease at which you can tailor the advice is relevant to both the 'organization' chapters and the more technical sections that mix well throughout the book.  The former group includes such topics as 'Planning Productive Practices', 'Assessing Team Strengths' and 'Evaluating Practice Sessions'.  The latter is an especially useful chapter as evaluating the effectiveness of a training session, from an individual and a team perspective, is an essential part of making sure the practice is achieving the desired benefits, while also giving coaches the opportunity to improve their craft by learning through experience.
As for the technical side, the 'Maximizing Batting Practice' chapter goes into an impressive amount of detail on things coaches should look for when running BP, while the 'Perfecting Positional Play' chapter offers clear drills that you can work on to recreate a variety of different fielding situations. No coach needs to be told how important 'fundamentals' are to a team and this book does a great job of dissecting the basics of the game from a coaching standpoint.
Practice Perfect Baseball isn't a 'coaching 101' type of book that simply spells out some drills that can be added into your current routine.  It is a tool for coaches to learn from and to help them improve, thus allowing them to organize and run better practice sessions.  It's therefore not the book you would start from, but it's definitely worth a look for a coach who wants to think more deeply about his role.
Have you read "Practice Perfect Baseball"? Feel free to share your thoughts in the comments section below. Can you recommend any other similar books? If so, let us know.